Chair design RM58 Soft 4 branches - VZOR
We find on this model the base of the armchair RM58, which has led to its success, but with a base in four branches, which allows the chair to rotate on itself and to give it a very contemporary. The seat has also been expanded to 3cm compared to the original version.
For the anecdote, a photo of the chair arrives in the hands of Le Corbusier in 1961, he wishes to obtain the license, but the Polish authorities of the time block the sale. Probably because the seat also tells the story of the Polish socialist who does not allow the manufacture of chairs in fiberglass, a material that is reserved for military use at the time.
Roman Modzelewski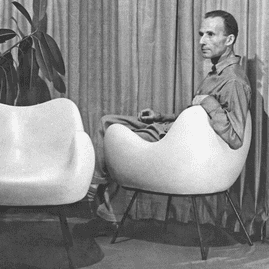 CUSTOMIZE YOUR ARMCHAIR BELOW
Product customization
Don't forget to save your customization to be able to add to cart
Expected Delivery :
02/03/2021
100% secure payment
Free delivery in Europe from 50€
Free return
Customize
Share your customization with your firends
Download image
Description
HISTORICAL DESIGN ICONIC

VZOR offers collections of chairs and armchairs of the Polish designers iconic of the middle of the last century. The armchairs and chairs the timeless style edited by Vzor (manufactured in Poland) are, therefore, the work of Polish designers of reputations, using quality materials and modern technologies.

DESIGNERS

Roman Modzelewski, born in 1912 and died in 1997, was the director of the academy of Fine Arts in Lodz, but also a designer, painter, sculptor and has received several awards for his creations which some of them still exhibited in London, for example.



Czeslaw Knothe, 1890-1985, was architect and designer, member of the collective of artsites "LAD". It has in particular created a line of furniture for the palace of culture and science in Warsaw. Find on Fotello.fr the armchairs and chairs iconic of these two designers, reissued in Vzor.
Product Details

Data sheet
DIMENSIONS

height 74cm, width 70cm, seat height 45cm

MATERIALS

Armchair, structure in polished aluminium, swivel chair

MANUFACTURING

Poland

DELIVERY IF OUT OF STOCK

4 to 6 weeks
Reviews
No customer reviews for the moment.
Attachments
Related Products
( 4 autres produits dans la même catégorie )