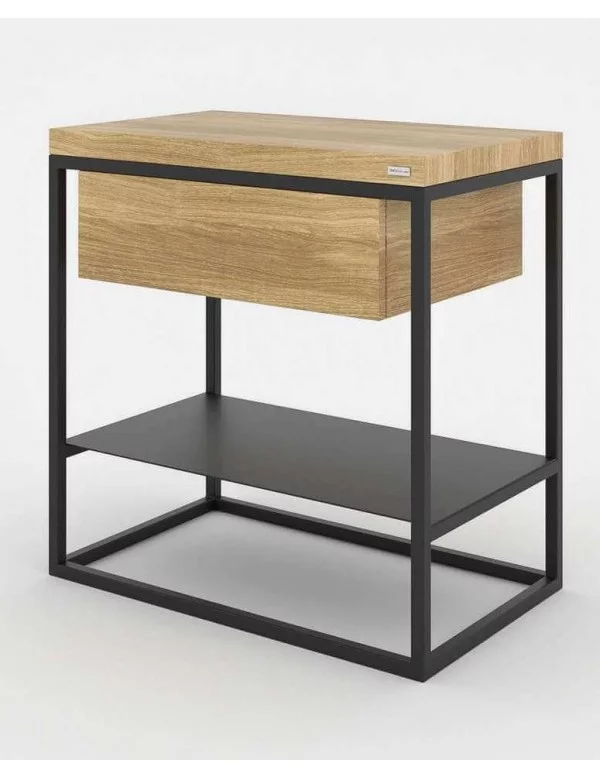 Designer bedside table
Here we find the Moonlight bedside table but with an additional shelf that will allow you to deposit your objects and keep them within reach. This Moonlight nightstand has a modern, minimalist design with a well-integrated drawer and quality materials. The originality of the Moonlight bedside table comes from its drawer which seems suspended in the air. <p...
designer console
This CLEO console comes from the imagination of designer Mateusz Karewicz. This version with guardrail brings an additional touch of originality. Well thought out with its high compartment which can store all types of objects, it keeps a minimalist style which is the DNA of Take me home. It will fit easily into any interior. The...
Bottle racks
€124.00
-20%
€155.00
Regular price
Price
Bottle racks
If you like geometric shapes, you will like PICO. Here is the 15-bottle version of the famous PICO honeycomb bottle rack: Display your bottles in style and keep them close at hand. Available in black and brass as well as in 3, 6 or 15 bottle formats.
€124.00
-20%
€155.00
Regular price
Price
designer table lamp
This bell-shaped table lamp will highlight your bulb and offer an original way to illuminate your interior. The bulb seems to be placed under the bell. Bulb not included. 1 purchase = 1 tree planted.
PROSTORIA
Chair with a clean look but made from the latest woodworking technologies, the Rhomb solid wood chair is a spacious, comfortable and solid chair that won the German Design Award in 2017. The work on the backrest is particularly remarkable: depending on the curve between the backrest and the armrests, the backrest structure changes shape starting from a diamond and...
designer armchair
The Peggy armchair is an armchair with Scandinavian accents with its curves and its wooden structure. Comfortable and welcoming, it is ideal for recharging your batteries. The cushion is included. Available in several colors: the cream and gray armchairs have...
designer armchair
The A conversation Piece armchair, designed by Anders Klem in 2018, invites you to relax and chat with friends. Its curves are inspired by organic furniture, typical of Scandinavian design. Anders Klem wanted to give enveloping curves, like an open shell, embellished with lots of details whether on the wooden structure or the seat. Its compact and comfortable...
Designer pendant light
Designer Soren Ravn Christensen took inspiration from the slender and elegant shape of a golf club to create the Clava Dine lamp. With its raw metal finish, this lamp will fit perfectly into your dining room or living room. The small holes that run around the perimeter of the lamp allow you to diffuse points of light with the most beautiful effect. <p...
designer coffee table
Organic shape and marble effect: this POLS POTTEN coffee table attracts attention and dresses your interior with originality, strength and elegance in a timeless style. The designers Pols potten <img src="//cdn.shopify.com/s/files/1/0002/5824/4636/files/pols_potten_designers_large.jpg?v=1538397635"...
designer table lamp
Little sister of the Toulouse floor lamp, the Toulouse table lamp by IT'S ABOUT ROMI will seduce you with its brass color and its elegant white marble base. With its retro but ultra trendy look, the Toulouse table lamp will charm design lovers. Bulb not included. 1 purchase = 1 tree planted.
designer chair
The Boston chair by Pols potten is a truly original metal chair! It is undoubtedly noticeable with its metallic grid which gives it a style in its own right and gives an offbeat touch to your interior. Possibility of ordering chairs with cushions (black cushions for both colors). The designers Pols potten <br...
designer coffee table
The geometric shapes of the structure that holds the central top give this table all its originality. The solid oak finish brings presence and warmth to this coffee table. Choice of finish for solid oak: oil or matt varnish. Designed in 2013 by Robert Budny <p...
Designer pendant light
Made from natural goose feathers, Umage's EOS pendant lights will illuminate your interior with a soft and warm light. Elegant and refined, they bring a breeze of lightness and softness into your interior. Black or white rosette cable offered with the suspension. Bulb not included. <p...
designer coffee table
Designed in 2014 by Designer Kinga Wysocka, the Pocket coffee table is actually made up of two tables: a large 120x60x40 and a smaller 55x55x30cm that slides underneath and that you can shift as you wish. The modern design of the glass table and accentuated by the colorful pocket that adds a touch of color that will energize your interior. <p...
designer coffee table
The minimalist design of this smoked glass table should not hide the work done by designer Kinga Wisocka on all parts of the table: a top placed under the table and smaller than the base gives an impression of levitation and lightness to it. The smoked glass which leaves an opening gives it a contemporary appearance and the lower...
designer armchair
With its contained size but its deep seat, its generous width and its design that is both modern and timeless, this Charmy armchair by Pols potten will easily find its place in all types of interiors and all rooms. The designers of Pols potten have chosen velvet for this armchair: soft, warm, comfortable and elegant, it is at the...
Designer floor lamp
Another beautiful creation from Pols potten! This full moon design floor lamp with its marble base, its brass-colored structure and round bulbs, hence the name "full moon", is at the top of the trend. Bulbs not included. The designers Pols potten <img...
designer chair
New from Pols Potten, the Buddy chair is at the same time elegant with its fine base of the most beautiful effect and comfortable thanks to its generous and welcoming seat. Once installed, you will fully enjoy the present moment without worrying about your comfort. The designers Pols potten <img...
Designer pendant light
Created in 2017 by designer Soren Ravn Christensen, the Asteria pendant light will seduce you with its bold colors and minimalist shapes. This lamp incorporates LED bulbs to obtain a fine and refined line which gives it a futuristic and airy look. Designed in Denmark by Soren Ravn Christensen <p...
designer coffee table
In the Polygon range from Prostoria, here is the coffee table. Here we find the fine structure in metallic wires with triangular shapes, characteristic of the polygon collection. As you move around the coffee table, the triangular shapes overlap to form more intricate designs that perfectly match the modern spirit of the Polygon range. <p...
designer coffee table
Designed by the studio of Pols potten, the round marble effect coffee table impresses with its modern design and its large diameter of 100cm, ideal format for sharing convivial moments. The designers Pols potten <img...