FOX marble oval coffee table - 366Concept
Expected Delivery :
30/09/2021
Creation of 366Concept, the oval coffee tables in white or black FOX marble, have in their DNA the design of the years of the middle of the last century. With their natural marble top, brass finish and oval shape, they are at the top of the trend. Their beautiful length of one meter will allow you to have enough space to deposit all kinds of objects.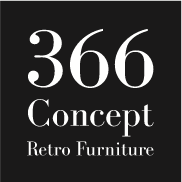 A committed player in Polish design, 366Concept reissues the most beautiful creations of Polish design from the middle of the last century. Created in 2014, 366Concept values the tradition of Polish design by obtaining the exclusive license rights for the 366 armchair, an original creation by Józef Chierowski who was an interior designer, pianist and lecturer at the Wrocław University of Art. This armchair is the most popular of Polish design from the middle of the last century. Immediate success in Poland thanks to its sleek design and light wooden construction, it was never noticed outside Polish borders at the time. This is now done thanks to the rebirth of 366Concept, which introduces the world to this design jewel and the emblematic Polish collections of the 1960s. 366Concept is also committed to the preservation of nature by planting a tree for each armchair sold. Since 2017 they have planted more than 2,500 trees. All packaging is FSC certified and varnishes and glues are water-based, harmless to nature. Discover the world of 366Concept on fotello.fr and let yourself be seduced by these retro-designed collections. 366Concept offers a selection of fabrics that will allow you to find the right color for your interior.
Related Products
( 4 autres produits dans la même catégorie )