TAKE ADVANTAGE OF FREE DELIVERY THROUGHOUT EUROPE
close
Oval side table - HKLIVING
The dimensions contained in the HKLiving oval side table will allow you to use it as a console, side table or even as a side desk. Very trendy with its oval shape and its pillars, it immediately stands out. Handmade product.
Including €2.20 for ecotax
Expected Delivery :
16/11/2021
Free delivery and return
In Europe from 50€
Responsive customer service
We answer you within 48 hours maximum
100% secure payment
By credit card, Paypal, bank transfer
Quality service and best prices
Our customers benefit from exclusive offers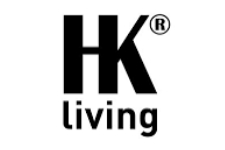 Present worldwide, HKLiving is a Dutch brand founded in 2008 by Emiel Hetsen and Sander Klaver. A former antique buyer, Emiel Hetsen has teamed up with his childhood friend Sander Klaver to start HKLiving. The HKLiving collections represent the marriage of travel and modernity while seeking to renew itself regularly. HKLIving merges styles and is inspired by atmospheres from all over the world while offering unique and accessible collections. HKliving likes to mix styles and surprise with original creations.