New version of the armchair RM58 classic designed in 1958 by designer Polish Roman Modzelewski, but here in fabric and padded foam for comfort. The chair has slightly been enlarged to 3cm compared to the original version RM58 classic.
This modern version is available in several colours.
For the anecdote, a photo of the chair arrives in the hands of Le Corbusier in 1961, he wishes to obtain the license, but the Polish authorities of the time block the sale. Probably because the seat also tells the story of the Polish socialist who does not allow the manufacture of chairs in fiberglass, a material that is reserved for military use at the time.
Roman Modzelewski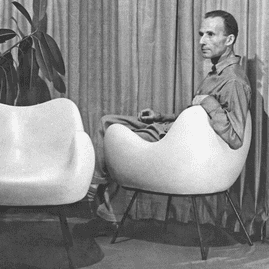 CUSTOMIZE YOUR ARMCHAIR BELOW